South Cone Section
Group of Editors of Pediatric Journals of the South Cone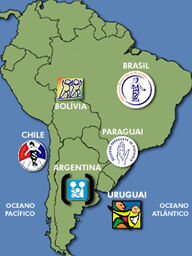 The Group of Editors of Pediatric Journals of the South Cone is composed of editors of official scientific publications of the pediatric societies from
Argentina
,
Bolivia
,
Brazil
,
Chile
,
Paraguay
and
Uruguay
.
The Group was formed in 1996 and continually develops a partnership for technical and political cooperation aiming at scientific integration and diffusion of knowledge of the pediatric community within these countries, which comprises around 30,000 colleagues. 
One of the most fruitful achievements of the Group of Editors of Pediatric Journals of the South Cone is the publication of the 10 best original articles, selected from the scientific production published each year by these six journals. In 2020, due to the COVID-19 pandemic, there was no annual face-to-face meeting. However, the 2 outstanding articles published in each journal in 2019 were selected.
Two of these articles were originally published in Jornal de Pediatria and are available below:
Involvement of maternal grandmother and teenage mother in intervention to reduce pacifier use: a randomized clinical trial
Elsa Regina Justo Giugliani , Leandro Meirelles Nunes ,, Roberto Mário Silveira Issler , Lilian Cordova do Espírito Santo , Luciana Dias de Oliveira
J Pediatr (Rio J). 2019;65:166-7
Prevalence of metabolic syndrome-like in the follow-up of very low birth weight preterm infants and associated factors
Luciana A. Heidemann , Renato S. Procianoy, Rita C. Silveira
J Pediatr (Rio J). 2019;95:291---7.
Eight more articles were selected from journals from Argentina, Chile, Paraguay, and Uruguay. See below the titles of these articles as well as the electronic links to the full texts.
Argentine
Parental hypercholesterolemia and family medical history as predictors of hypercholesterolemia in their children
Jorge Robledo,Leonardo Siccardi, Liliana Gallindo, Shrikant Bangdiwala, Jimena Colombero, Daniela Giorgi
Arch Argent Pediatr. 2019;117(1):41-47
Epidemiology of sudden unexpected death in infancy in Argentina: secular trend and spatial variation
Valeria Chapura, Emma Alfaroa, Rubén Bronberg, José Dipierri
Arch Argent Pediatr 2019;117(3):164-170
Chile
M-CHAT-R/F Validation as a screening tool for early detection in children with autism spectrum disorder
Maria Elisa Coelho, Jonathan Bronstein, Karina Aedo, Jaime Pereira, Verónica Arraño, Carolina Perez, Patricia Valenzuela, Rosario Moor, Isabel Garrido, Paula Bedregal
Rev Chil Pediatr. 2019;90(5):492-499
Effectiveness of Watsu therapy in patients with juvenile idiopathic arthritis. A parallel, randomized, controlled and single-blind clinical trial
Natalia Pérez, Paula Nahuelhual Paula Nahuelhual Cares, Pamela San Martín Peñailillo
Rev Chil Pediatr. 2019; 90(3):283-292
Paraguay
Presence of mycotoxins in commercially-prepared food for infants in the metropolitan area of Asunción, Paraguay
Andrea Arrúa, Pablo Arrúa, Juliana Moura, Francisco Ferreira, Danilo Fernández, María Gabriela Ulke, Martha Quezada, Josefina Moreno, Cinthia Cazal, Mónica Pereira, Marcos Mellid, Inocencia Peralta, Man Kholi
Pediatr. (Asunción). 2019; 46(2):97-102
Alteration of vision and its relationship with the use of electronic devices in adolescents attending public schools in San Lorenzo
Jessica Ferreira Martínez , Olivia Cardozo
Pediatr. (Asunción). 2019;46(3):173-178
Uruguay
Use of high flow nasal cannula in hospitalized children with acuterespiratory infections
Catalina Pinchak, Loreley García, Gabriel Peluffo, Martín Vázquez, Margarita Halty, Flavia Chamorro, Analhi Mogni, Soledad Iglesias, Alejandro Noria, Mauricio Ferratti, Luciana Rodríguez, Wálter Pérez
Arch Pediatr Urug 2019; 90(5):257-269
Sudden death of cardiac etiology in pediatrics. Analysis of 95 cases in the last 20 years.
Pedro Chiesa, Alejandro Cuesta, Beatriz Ceruti, Carmen Gutiérrez
Arch Pediatr Urug 2019; 90 (6):312-320