South Cone Section
Group of Editors of Pediatric Journals of the South Cone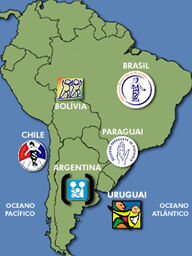 The Group of Editors of Pediatric Journals of the South Cone is composed of editors of official scientific publications of the pediatric societies from
Argentina
,
Bolivia
,
Brazil
,
Chile
,
Paraguay
and
Uruguay
.
The Group was formed in 1996 and continually develops a partnership for technical and political cooperation aiming at scientific integration and diffusion of knowledge of the pediatric community within these countries, which comprises around 30,000 colleagues. 
One of the most fruitful achievements of the Group of Editors of Pediatric Journals of the South Cone is the publication of the 10 best original articles, selected from the scientific production published each year by these six journals. In the most recent meeting, held in Buenos Aires, Argentina, on 31st October and 1st November 2019, the Group selected the two most relevant articles of the year 2018 from each journal.
Two of these articles were originally published in Jornal de Pediatria and are available below:
Socioeconomic inequality in preterm birth in four Brazilian birth cohort studies
Ana Daniela Izoton de Sadovsky, Alicia Matijasevich, Iná S. Santos, Fernando C. Barros, Angelica Espinosa Miranda, Mariangela Freitas Silveira
[J Pediatr (Rio J). 2018;94(1):15-22]
Effectiveness of a measure program to prevent admission hypothermia in very low-birth weight preterm infants
Jamil Pedro de Siqueira Caldas, Fernanda de Castro Millen, Juliana Fernandes de Camargo, Paula Almeida Cavalcanti Castro, Ana Letícia da Fonseca Camilo, Sérgio Tadeu Martins Marba
[J Pediatr (Rio J). 2018;94(4):368-373]
Eight more articles were selected from journals from Argentina, Chile, Paraguay, and Uruguay. See below the titles of these articles as well as the electronic links to the full texts.
Argentine
Contribution of diet to lead exposure among children aged 1 to 7 years in La Plata, Buenos Aires
Enrique Martins, Agustina Malpeli, Daniel Asens, Luis Telese, Victoria Fasano, Vania Vargas, Marina Tavella, Jorge E. Colman Lerner
[Arch Argent Pediatr. 2018;116(1):14-20]
Impact of a program aimed at reducing catheter-related infections implemented in nine pediatric intensive care units in Argentina
Ana M. Lenz, Elena Andion, Silvina Ruvinsky, Clarisa Aguirre, Julieta Álvarez Parma, Facundo Jorro, Gabriela López Cruz, Martín Pascutto, Matías Penazzi, Silvia Santos, Marcela Zuázaga, Norma Aquino, Juan C. Vassallo, Guillermo Moreno, Ricardo Magliola, Aldo Haimovich, Luis Landry, Rosa Bologna
[Arch Argent Pediatr. 2018;116(2):93-97]
Chile
Transcultural adaptation and validation of a satisfacion with life scale for Chilean adolescents
Carola A. Álvarez, Ana M. Briceño, Karla Álvarez, Marcela Abufhele, Iris Delgado
[Rev Chil Pediatr. 2018;89(1):51-58]
Overlapping of functional gastrointestinal disorders in latinamerican schoolchildren and adolescents
Carlos Alberto Velasco-Benítez, Carmen Rossy Ramírez-Hernández, Jairo Enrique Moreno-Gómez, Edgar Játiva-Mariño, Roberto Zablah, Laura Leticia Rodríguez-Reynosa, Sofía Araceli Leyva-Jiménez, Ricardo Chanís, Milton Mejía-Castro
[Rev Chil Pediatr. 2018;89(6):726-731]
Paraguay
Prognostic mortality factors in children with acquired bacteremia in the community (ABC) hospitalized at a tertiary medical center in Paraguay
Soraya Araya, Avelina Troche, Sara Amarilla, Gabriela Sanabria, Claudia Zarate, Fernando Galeano, Rocío Benitez, Sandra López, Juan Irala, Silvio Apodaca, Antonio Arbo
[Pediatr (Asunción). 2018;45(1):17-24]
Cost of motorcycle accidents in children under 19 years of age treated at a tertiary hospital
Luis Báez, Doris Vergara de Navarro, Laura Heisele, Natalia Gómez, Mirian Torales de Cardozo, Celia Martínez de Cuellar
[Pediatr (Asunción). 2018;45(2):135-140]
Uruguay
Stillbirth at Pereira Rossell Hospital in Montevideo. Analysis of 845 autopsies between 2005 and 2016
Pilar Beltramo, Carmen Gutiérrez, Ángeles Rodríguez, Natalia Maciel
[Arch Pediatr Urug. 2018;89(1):5-14]
Nasopharyngeal colonization from Streptococcus pneumoniae serotypes in Uruguayan children before and after pneumococcal conjugate vaccines
Coral Fernández, Gabriela García, Teresa Camou, María Albini, María Hortal
[Arch Pediatr Urug. 2018;89(4):235-241]